Leading Cosmetic & Beauty Clinic Situated In Maroochydore, Queensland.
Personalized Training at Signature Cosmetic & Beauty
With Sam being in the industry for over 10 years, she has completed multiple national and international trainings in all services provided here at Signature Cosmetic & Beauty. Over this time, she has learnt there is a very big gap in many training programs throughout the industry, with people being rushed through courses and not given the opportunity to learn, take in the information needed and mentored throughout their journey.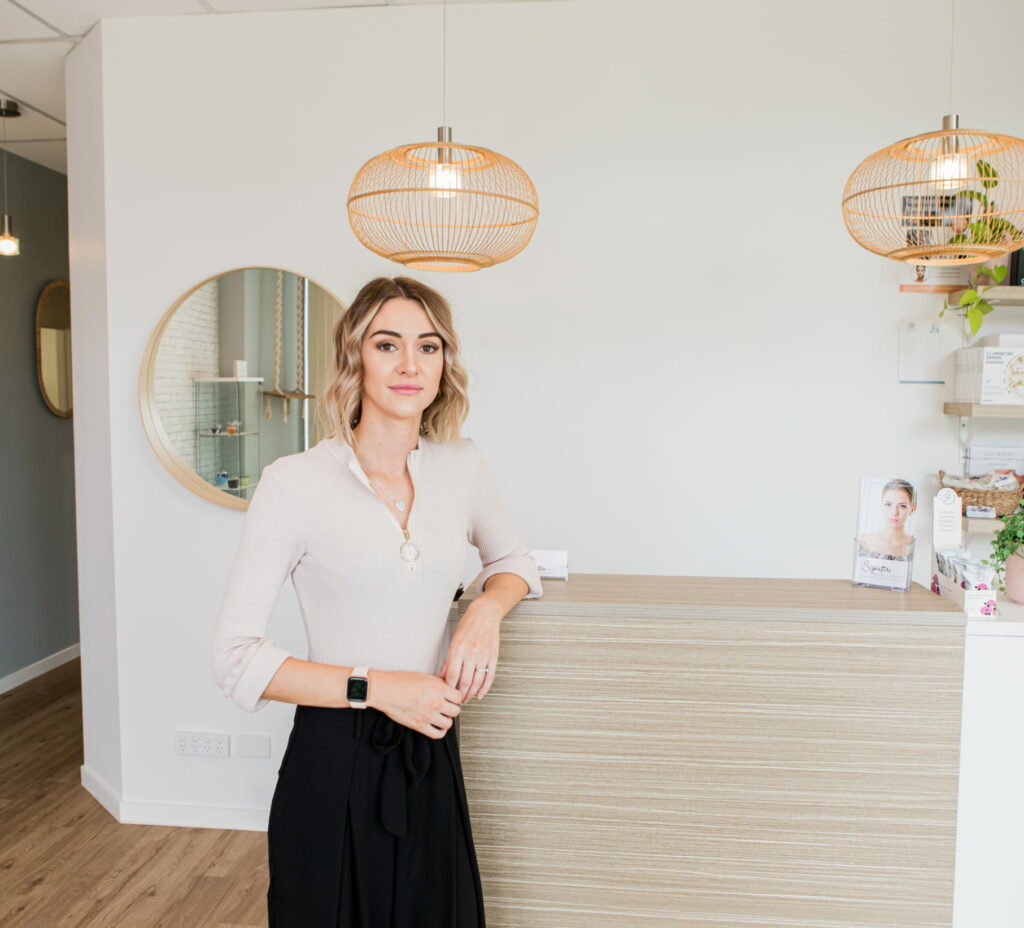 We offer bespoke hands-on training courses, that provides you with in-depth information, up to date tips & tricks coupled with qualified advice on the latest tools and techniques to perform quality treatments. There is no one treatment fits all in this industry, every client's treatment should be customised to suit and we can teach you how.
Quality is crucial when it comes to beauty treatments, we only used the best brands and will give you all the information on how to choose and find the right brands for you, your business and your clients. We offer life time support after our trainings to ensure you feel comfortable in providing quality treatments to your clients too.
We believe training programs should be tailored for individual students depending on their experience and goals in the industry so you wont find a one size fits all training description here with us. If you are interested in any of our training programs, please contact us here so we can find out more about you and develop a customised training plan for you.
Discover all the areas we offer training courses.
Pro-stamp & Pro-Liner hands on Training

Pro-Stamp® is the most advanced skin needling system in the world and is fast becoming the industry leader in skin rejuvenation. This treatment treats multiple different skin concerns meaning you can perform it on any and all of your clients no matter their skin type. It effectively treats fine lines & wrinkles, lax skin, scarring, pigmentation, open pores, stretchmarks, and more.

This course is combined online theory and hands on practical training. You will receive in depth information, techniques and guidance to ensure you feel confident performing this treatment. Prior skin needling experience is recommended before completing this training.

We believe training should be tailored for individual students and their experience. For more information on this device and training please contact us here for your customised training plan
Lash Lift & Brow Lamination Training

These two popular lash and brow treatments have taken the industry by storm over the past few years. Sam has been performing lash lifts for almost 10 years, long before they become so popular, so we have learnt all the best techniques and found the best brands to keep your lashes as healthy as possible. Our lash lift treatments use one of the gentlest products in the industry, MyLamination (the original brand of 'Lash Botox'). We are QLD industry trainers for this lash lift and brow lamination brand, we use it ourselves and love it so much, we are able to use our knowledge and experience to provide training to others in our industry.

MyLamination brand is all about lash and brow health and is a gentle yet effective product range for Lash lifts and brow lamination. Your clients will come back after each treatment with visibly longer, thicker, fuller and healthier lashes.

These training courses are available for beginners or trained professionals that want to up their skills, we will provide all the advice needed to perfect your technique and take the guess work out of your lash lifts. No more wondering how your results will turn out, we will teach you all of the different techniques to customise your treatment to each and every one of your clients.

Our advanced training focuses on the different lifting results you can achieve by picking the right shield style, shape and how the placement of shields and solutions can alter the look of your lift. Does your client want a natural or dramatic result, and which type would their eye shape benefit from? We will teach you how to customise each of your treatments to ensure you get the right result for your client every time.

For We believe training should be tailored for individual students and their experience. For more information on this training please contact us here for your customised training plan
Cosmetic Tattoo & Saline Removal Trainings

Sam has been providing cosmetic tattooing services for over 7 years. She started tattooing when microblading first came about and has continued to train in updated techniques over the years. Sam was the first cosmetic tattooist on the coast to start offering combination brows and has completed many national and international trainings and masterclasses.

 

Sam believes one issue in the beauty industry is that training is provided to quickly, not allowing students the time to absorb the information and feel confident in their practical skills upon completion. Many tattoo trainings are provided within a week, sometimes only one or two days.

 

Training through Signature Cosmetic & Beauty is instead provided over weeks, allowing you time in between your training days to go home, absorb information, continue learning and practicing before moving onto the next step. Your training can be customised to suit your schedule but Sam believes it is important to be laid out in a way that allows you enough time to not feel rushed, feel confident in your skills and give you the opportunity for as much practical whilst also retaining the theory.
Cosmetic Tattoo Training Options

Eyebrows (microblading, combination, ombre)
Eyeliner & Lash Enhancements
Lip Blush Tattoo
Saline Removal

 

We believe training should be tailored for individual students and their experience. For more information on this training please contact us here for your customised training plan  
Start Your Training Journey With Us Today